What is not working out for fitness chains in India?
In the recent years, just like the food and beverage industry, the fitness industry has also seen many new entrants on the desi land. Be it a local player or a big international name, every gym chain has certain challenges in terms of locations. So, here
To get away with the troubles of costly locations and rentals, Mumbai has gone a step ahead. Many free of cost open-air gyms have sprung up in different parts of the city recently. But large gym chains have to be present across countries and scouting for better locations is a task for them. Be it some mall, a particular city or any site, this challenge can crop up anywhere. US-based Anytime Fitness has presence in 23 countries with over 2900 operational clubs globally. The brand is soon planning to tap entire Punjab market. Vikas Jain, MD, Anytime Fitness India says: "I think rent is a major challenge everywhere. But I feel the major challenge for us regarding rent is only in Chandigarh in terms of Punjab Market. Elsewhere we have always successfully opened gyms in tier II cities also like Bhuj (Gujarat), Dimapur (Nagaland) etc."
Malls
Malls are also considered as a major challenging location for gym chains to enter. Due to the high rentals and most people not willing to drive that far to any mall in their area, this choice is all the more tricky. Now most chains are targeting residential locations so that the customer has an easy access to his workout place and can refer others also in the vicinity. Mumbai-based, YFC- Your Fitness Club also prefers opening centres in residential areas but has few of its centres inside prominent malls too. In Mumbai YFC central branch is located at Orchid City Centre mall. In Smaller towns like Banswara- Rajasthan and Ujjain-Madhya Pradesh, it has centres in R S Square Mall and Cosmos Mall respectively.
Renting a place to a gymming chain in a Mall may be beneficial for a mall operator but for the gym it's not in real sense. Gym chains usually use up such space which is not used by other categories. Like a huge corner space at 5th or 6th floor in a mall. India's top most shopping centre, Select Citywalk has only one gym (Fitness First) inside it on the 5th and 6th floor. Moreover, there are more distractions like food joints and shopping brands inside a mall that does not let the customer focus on his aim related to health. This focus can be comparatively easily maintained at a place that is near to home. After all gymming is not an impulse activity but it is a planned one. Customer chooses where he wants to go and that choice is always a place near his home.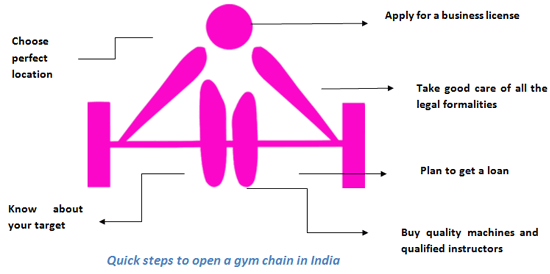 2. Regions with low awareness
Many gym chains may face the challenge of entering at far-flung locations or may be some places where language and brand perception and awareness are altogether different. Commeting on the same, Rizwan Sayed, Founder and Director, YFC quips: "I believe entering in East India and North has being a tough thing to do. In the East because of language and low awareness issue, and in North because of the customer's taste and preferences. Moreover, opening gym in highly commercial areas of any city is never a good idea as most of the members always prefer joining a health club facility closer to their home where in they can workout at peace."
3. Tier II &III
Recently, most gym chains have been targeting smaller towns to enter and make profits but these locations are equally challenging too. The rentals are reasonably low but then there is no qualified staff available. Not everyone is willing to join them at a pay package that is being offered in smaller towns. So, with benefits, smaller towns bring in equal difficulties too.
USA's Gold's Gym currently has around 84 gyms operational in India and is present in 44 Indian cities. It also operates many of its centres inside malls but finds tier II and III most challenging to move in. G Ramachandran, Promoter and Director, Gold's Gym India informs: "The most challenging locations are tier II and III cities. More so in terms of talent and skilled workforce. Further migration from metro to minor cities is a challenge as the mindset and cultures are serious impediments. We have experienced it in cities like Coimbatore. Vijayawada, Belgaum, Varanasi, Allahabad and like cities."