Three most-profitable Retail categories for 2016 at Malls
Shopping malls have become the most preferred shopping place for one and all due to the easy accessibility and availability of every shopper's need. Let's find out the three most leading categories across malls pan- India that are pulling the crowd day an
The Indian retail sector is one dynamic category that is flourishing day-by-day. It has not only made ways for itself at the nook and cranny or high streets only, but in the past two decades, it has grabbed maximum attention at the shopping malls for consumers & entrepreneurs. F&B, Fashion and Beauty retail are primarily the three leading categories that have swept away the utmost mall space and have become the backbone of any mall.
As per Dinaz Madhukar, Senior VP and Mall Head, DLF Promenade and DLF Emporio: "The biggest explosion that took place in the retail industry has to definitely be attributed to the advent of Mall retail in India. I have personally witnessed an enriching journey with DLF Promenade & DLF Emporio so far. There may be many behavioural trends impacting sales – the biggest aspect remains to be the direct link to socioeconomic conditions and its impact on spending appetite. Despite these external factors, our malls have seen a steady rise in the number of foot falls and we today boast of the highest sales per square foot."
Retail market at a glance
According to the India Brand Equity Foundation, the Indian retail industry has emerged as one of the most dynamic and fast-paced industries due to the entry of several new and foreign players. Its data says, it accounts for over 10% of the country's Gross Domestic Product (GDP) and around 8% of the employment. India is the world's fifth-largest global destination in the retail space.
Substantiated by relevant reports, the overall retail market is expected to grow at 12% per annum, modern trade would expand twice as fast at 20% per annum and traditional trade at 10%. Retail spending in the top seven Indian cities amounted to Rs 3.58 trillion (US$ 57.6 billion), with organised retail penetration at 19% as of 2014. Online retail is expected to be at par with the physical stores in the next five years.
Rajendra Kalkar, President (West), The Phoenix Malls Ltd. says: "Franchising has played a significant role in aiding the growth of the retail industry. Globally, according to a news report by Business Insider, the top five franchisees for 2015 include names like The Hampton Hotels, Anytime Fitness, Subway, Jack in the Box and Supercuts. High Street Phoenix has more than 500 brands under one roof in the mixed-use development model and we have taken cognizance of the pertinence of the fashion, hospitality and beauty segment, thus ensuring our brand mix is centered on these three."
The three musketeers
Food & Beverage: F&B sector is a clear frontrunner in any mall. Globally, The Boston Consulting Group has forecasted that the market size for food in India, which was at Rs 23 lakh crore in 2014, is set to reach Rs 42 lakh crore by 2020. Abu Dhabi-based Lulu Group plans to invest Rs 2,500 crore (US$ 402.0 million) in a fruit and vegetable processing unit, an integrated meat processing unit, and a modern shopping mall in Hyderabad, Telangana. Aditya Birla Retail, a part of the US$ 40 billion Aditya Birla Group and the fourth-largest supermarket retailer in the country, acquired Total hypermarkets owned by Jubilant Retail. US-based Pizza chain Sbarro plans an almost threefold increase in its store count from the current 17 to 50 over the next two years through multiple business models. Apart from these, supermarkets and FMCG anchor stores like Big Bazaar, Spencers, Walmart, Easyday, More and others have gained equal share of interest amongst the customers in the malls, reason being- convenient shopping and hygienic products that have gained prominence in the food segment.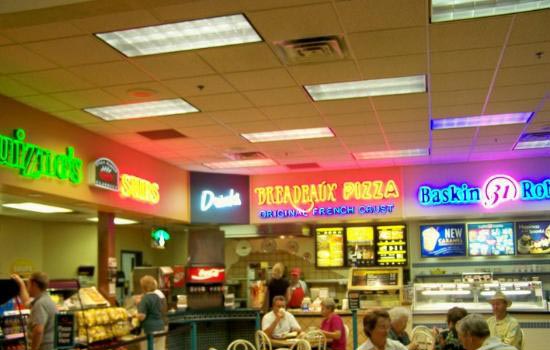 Fashion: Fashion retail including apparel, footwear and accessories, is equally important segment of any mall. It covers a maximum space for operations. Shopper's Stop, Pantaloons, Westside, RPG, Lifestyle, Globus and Piramals are some of the big fashion retails players that are attracting huge flock of customers every day. Not only these but the international brands like H&M, GAP, Zara, Forever 21 & many more have become the anchor tenants of choice for big-ticket retail players along with other sportswear, lingerie & innerwear and office wear brands.
Beauty retail: Beauty and makeup is the epitome of women's entity. Both Indian and international cosmetics brands have ushered in the opportunity for both the sellers and the buyers. With make-up being inevitable job for women, the fairer sex will keep spending on it till the survival of the mankind. Lakme, Lotus, Biotique, L'Oreal, Revlon India, Maybelline, Himalaya, Colorbar and Elle 18 are a few Indian brands of cosmetics that are penetrating in malls from high street and local shops. Also big and small format stores of premium beauty retail brands like Bobby Brown, Chanel, Clarins, Clinique, Estee Lauder, Kiehl's, Lancome, Loccitane, M.A.C., The Body Shop and others are commonly operational in shopping malls these days.