Subway India reopens its iconic restaurant at Bengaluru Airport
The remodelling includes transformation of the overall décor and appearance of the restaurants in order to make them look fresh and modern.
Leading quick service restaurant brand, Subway India has reopened its iconic restaurant located at Kempegowda International Airport, Bengaluru.
Griffith David, owner of the Subway Franchise at BIAL, said, "Since the inception of the restaurant, we have received an overwhelming response from travelers and food aficionados transiting through the city. The fact that we have won various coveted awards over the years, including the recognition for the highest unit sales worldwide, is a testimony of our commitment towards consistently offering a great dining experience to our guests at BLR Airport."
Donning the new 'Fresh Forward' décor
The restaurant has been refurbished in accordance with the 'Fresh Forward' design, a distinctive concept devised to transform and enhance the dining experience at Subway restaurants. The remodeling includes a transformation of the overall décor and appearance of the restaurants in order to make them look fresh and modern.
As part of this initiative, Subway has taken a tech-savvy approach by installing digital menu boards, USB charging ports, and offering Wi-Fi, among other features at the restaurants. The brand has recreated everything from packaging to how fresh ingredients are displayed at the restaurants, as per the concept.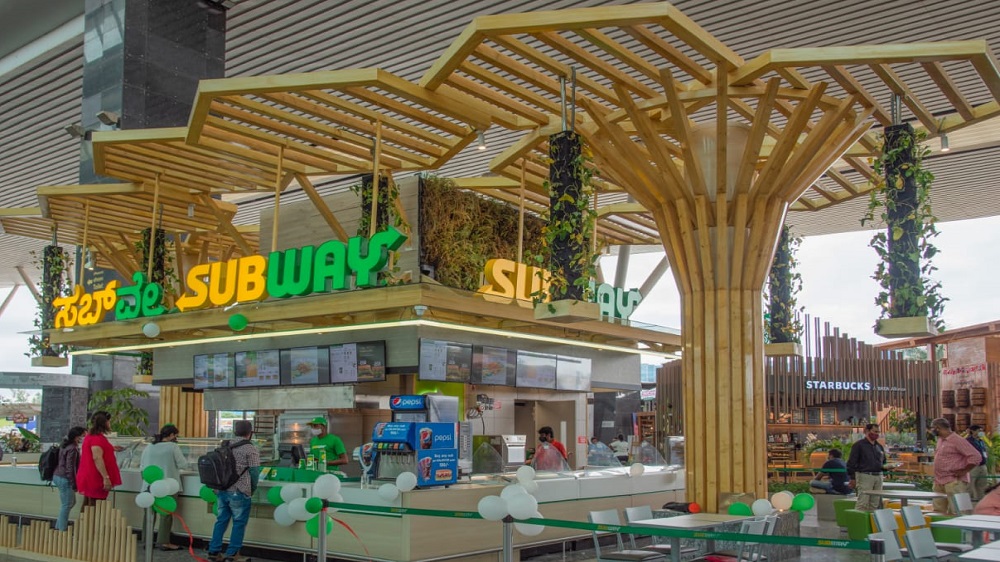 "With the new Fresh Forward design, fresh salads, delectable sandwiches, eco-friendly vertical gardens, and soaring canopies, we are looking forward to serving our guests once again with renewed vigour," Griffith further added.
Health and safety protocols at Subway
In the wake of the on-going health crisis, Subway India also ran an innovative campaign #SubwayIsSafe, on its social media accounts to reinforce its existing health and food safety protocols that are being strictly followed at all restaurants.
The measures include hourly sanitizing and disinfecting drill, face masks and single-use gloves for sandwich artists and delivery staff, touch-less delivery experience, secure supply chain, daily temperature screening of staff, to name a few.
Subway leads the way in the quick service restaurant industry in terms of its product line-up which is traditionally deemed fresh and more nutritious. Subway India has been updating its look and feels in a new design for transforming its experience according to the likes and tastes of the new-age guest.