Small office=Best office
Since the starting years, the demand for large offices and spaces has been on a high. Every franchisor wanted to start off a huge showroom and store. But now, with mushrooming of startups and more people taking up entrepreneurship, the demand for small of
The top reasons for the rising demand of such small office spaces is more number of people turning into entrepreneurs and also more people arranging funds for startups. Since the last few years, demand for compact office spaces is also fast growing. Cities like Bengaluru, Mumbai, Pune are witnessing heavy demand for small offices, also due to attractive leasing proposition, and lower rental value, budding entrepreneurs are looking to buy and grow their businesses. Surely the start ups are also receiving several benefits from the government such as sales tax exemption for relaxed period of time, subsidised electricity, loans and subsidies at very attractive rates of interest. Apart from the government initiatives, there are also funding giants who have keen interest in helping small businesses grow.
Ramesh Sharma, Director Coldwell Bankers says: "Small offices constituted to about 41% of the transactions in the office space during the period of June- September. Also the emergence and allocation of smart cities would also generate demand for such offices in the future."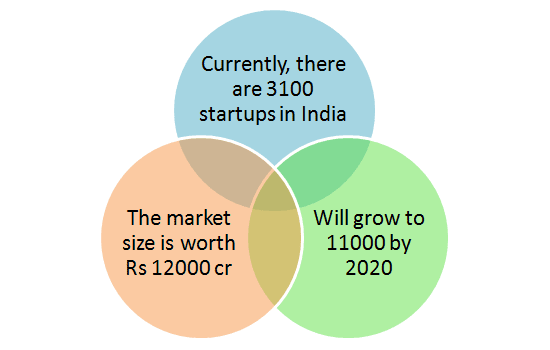 Effect on office space franchising
There has been a rise in the number of start ups in the recent times. The list of budding entrepreneurs is constantly growing mainly due to interest from venture capitalists; other funding companies are ready to invest in small start ups. However, most start-ups do not require large spaces to meet their business needs. Still as per statistics in the year 2015, about 41% of the transactions in Mumbai comprised of small office spaces, suggesting a very healthy demand, which also justifies that there is still a very healthy demand for small office set ups. Also as per sources there are at present 3100 startups in India, and number is going to increase to around 11000 in the year 2020. The market size of these startups is worth 12000 crore. As a matter of fact many retail MNCs are offering franchise to these startups which is a reason so many have jumped into this bandwagon. Sharma further comments: "Although the growth of small offices is increasing, statistics show that there is still a very healthy demand for large office spaces. The retail giants such as Flipkart, Amazon are located out in the prime locations of BKC, Wolli and the western suburbs too. As there is no dearth of requirement of such spaces, the commercial real estate is not affected in terms of franchising. The large transactions continue to happen, demands are increasing as the funding options are also readily available. The development of smart cities is going to drive the demand for office spaces, in future and will have an effect on office franchising."
The technology angle
The high speed technology and advanced app systems, most companies have started preferring operating online or via superior apps only. This surely saves their investment in office spaces. Can services, Meru introduced cab booking facility via call center, website and payment through cash or card way back in 2007. Same happened with other operators slowly and steadily. Even the mobile phone selling stores and showrooms have become a customer's secondary choice as has better deals and options for the same product sitting at home. So, most firms preferred operating either via small spaces or via online mediums.