PM Modi Asks Bankers To Be More Active In Lending To Small Businesses
Prime Minister Narender Modi addressed bankers at the symposium 'Build Synergy for Seamless Credit Flow and Economic Growth' held at New Delhi on 18 November 2021
Present on the occasion was Finance Minister Nirmala Sitharaman, Minister of State for Finance Pankaj Choudhary, Dr. Bhagwat Karad, Reserve Bank of India Governor Shaktikanta Das and other stalwarts of the banking sector and dignitaries associated with the programme.
Addressing the occasion PM Modi said that for the country to take a leap into the next phase of growth banks should be proactive in lending to small businesses and small enterprises and help improve the feasibility and scale of their borrowers operations. He said, "Faith is seen in whatever you hear. That is, our confidence level is so lively, it converts huge possibilities into resolution and if everyone works together, I do not believe that it will take long to achieve the resolution. There comes a time in the journey of development of any country, when that country takes new resolutions for a new leap and then the power of the whole nation gets involved in achieving those resolutions. Every country has a turning point for us. It was 1942 and 1930, Dandi Yatra and Quit India respectively. This is when India took a leap. The leap that took place in the 30's created an atmosphere across the country. And the result of the second jump in 1942 came in 1947. That is, the leap I am talking about. When I am talking of a leap now, after 75 years of Independence, we have reached a situation that in a real sense, the ground is firm for making the leap; the target is set, we just have to take off."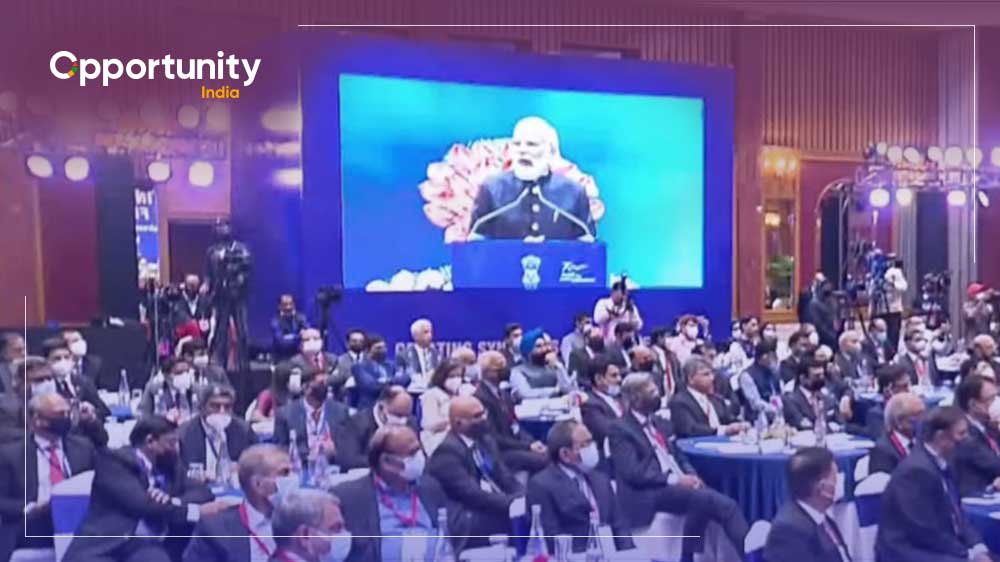 Addressing the bankers and industrialists in this event he stated the transparent and committed manner in which the government has worked is also reflected in the way money was received back by banks. He said, "In our country, when someone runs away from the banks, there is a lot of discussion, but if someone with power brings back the government, then no one discusses the same in the country. Out of the lakhs of crores that were trapped during the earlier governments, more than Rs 5 lakh crores have been recovered."
He emphasized the importance as to how the bank and the banking system's support can make wealth and job creators, referring to small businesses, entrepreneurs and self employed entities to a scalable stage. By doing so banks would be able to enhance the country's balance sheet while enlarging their own.
He stated the defaulters thought that the money belonged to them. Prior to 2014 it had become a way of thinking that the borrower owned the bank. He said, "All that is inside banks is also ours. Whether it stays in the bank or with me, what difference does it make and whatever was desired was asked for. And whatever was asked for was given."
PM Modi urged each bank branch of a bank to ensure by August 15, 2022 at least 100 clients do 100 percent transactions digitally. Also banks should set goals to help 10 youth who want to start something of their own or small businesses. "I see this phase as a new starting point for banks in India. It's time for you to support the wealth creators and job creators in the country. Whatever the RBI Governor just discussed about job creation, I think it is time. Today the need of the hour is that now the banks of India should work proactively to increase their balance sheet as well as the balance-sheet of the country. Don't wait for the customer to come to your branch. You have to analyze the needs of the customer, company, MSME, approach them, and deliver customized solutions for them. For example, two defense corridors were built in the Bundelkhand area of Uttar Pradesh and in Tamil Nadu. Now the government is working fast there. Are there as many bank branches connected around that corridor? Have you ever called them and had a meeting with them that the defense corridor is being built, which means a whole new sector of defense is coming here. What can the bank do proactively? These things are likely to come with the advent of the Defense Corridor. Who are the captains who will be in it? Who will be the small chain MSMEs who will come under its support system? What will happen to our bank for this? What would be a proactive approach? How will we compete between different banks? Who provides the best services?" he said.
The country and the banking system has achieved a big milestone, he said, "Today, banks' strength has grown to such an extent that they are ready to energise the country's economy and can play a big role in making India self-reliant. I consider this phase a big milestone for India's banking sector. But you would have seen that milestone is also an indicator of our future journey. I see this as a starting point for Indian banks' new future as well."
In the past one decade India has seen several reforms in the banking sector which supported the banking sector, because of which the sector has been able to fare well especially in terms of financial health of the bank. Problem of NPAs was addressed, banks were recapitalized, and several banking and regulatory reforms were brought that strengthened Debt Recovery Tribunals.
Think Big was the mantra, he said, "Be it a public or private sector bank, the more we invest in citizens, the better it will be for the country's people. Banks need to think big and use innovative approaches. The historic reforms that we have undertaken in 'Atmanirbhar Bharat' have opened new opportunities for the country. To fund and invest in our aspirations, can there be a better time than now?"