Hunar Haat 2021: Craft, Cuisine And Culture
Hunar Haat till date has provided employment opportunities to over 10 lakh craftsmen, artisans and culinary experts.
We all have gone through tough times; the world was at its immovable state as we know nothing is permanent. Those tough, bad, painful pandemic days are almost over now. We are again ready with a new ray of hope; every strata of the society suffered the pain of an epidemic. Especially the artisans, craftsmen, small business owners, middle income group and daily wage earners.
This year again the Government of India is back with many exhibitions, fairs, melas that had always been a support system for craftsmen since ages. Among them is Hunar Haat with the mega mission of craft, cuisine and culture. It helps to expand their businesses from the local market to the global platform and promotes our rich heritage, cuisines and culture worldwide.
The Ministry of Minority Affairs took the responsibility of providing huge platform via Hunar Haat so that the artisans can showcase their expertise and get more and more employment opportunities under Upgrading the Skills and Training in Traditional Arts and Crafts for Development (USTAAD).With the passage of time it establishes a credible brand of home-grown Indian Talent and ensured "Development with Dignity" of our craftsmen. The 33rd Edition of Hunar Haat has provided employment opportunities to over 10 lakh craftsmen, artisans and culinary experts.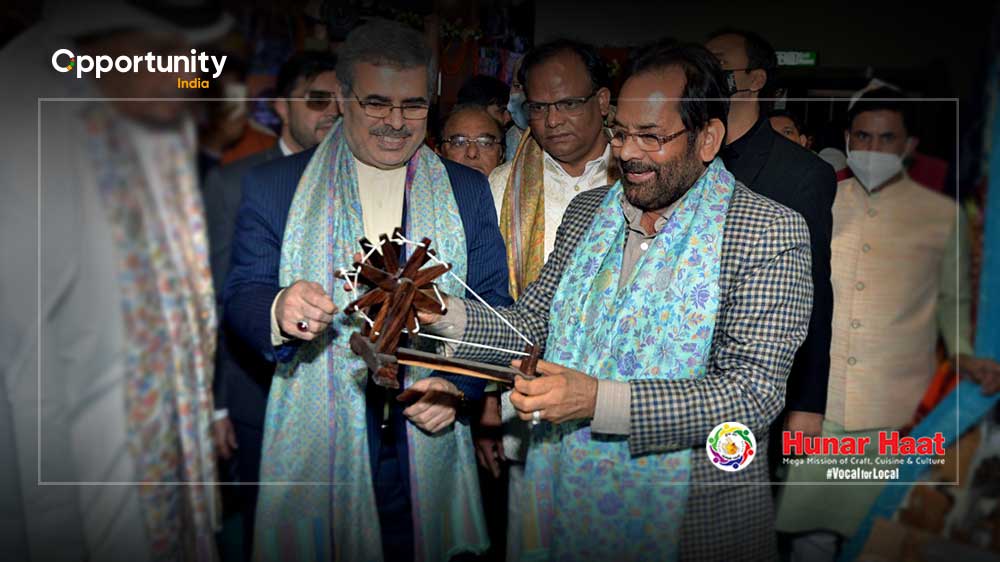 Speaking on the occasion Prime Minister Modi said, "Hunar Haat, of course, is a platform showcasing art and craft; it is also lending wings to people's dreams."
Mukhtar Abbas Naqvi asserted, "Hunar Haat has become a "Mega Mission" of indigenous Craft, Cuisine and Culture and economic empowerment of master artisans, craftsmen."
John Barla assumed the office as a Minister of State for Minority Affairs on 8th July 2021 in New Delhi. Over 500 artisans and craftsmen from 30 states and Union Territories, including Rajasthan, Delhi, Nagaland, Madhya Pradesh, Manipur, Bihar, Andhra Pradesh, Jharkhand, Goa, Punjab, Uttarakhand and Ladakh, have brought their indigenous products made of wood, brass, bamboo, glass, cloth, paper, clay etc at the Hunar Haat, where traditional food items from various parts of the country can be enjoyed. This great event also includes cultural programmes where famous singers from the film industry are the main attraction.
Unlike other shopping websites Hunar Hatt is also available online where you get to see a wide range of categories and subcategories of your favourite products like lamps, handmade soaps, jute bags, jewellery etc. You can book your orders as per your choice. In addition to this, making Hunar Hatt available online adds value to craftsmen's lives making them technically sound and taking more and more online orders will help their business to reach the next level.