How Lenskart has revolutionized the Eyewear Franchise Industry
The eyewear industry has grown tremendously in these years, transforming itself from a near stagnant market into a promising market.
In India, the eyewear market is dominated by unorganized segment, however, the organised share of the market is swiftly gaining pace and is all set to grow at a CAGR of more than 9% to reach $13.6 billion by 2024.
The eyewear industry has grown tremendously in these years, transforming itself from a near stagnant market into a promising market. With the changing times, consumers can now get their eye check-ups done at the convenience of their homes by using modern technology.
These changes have only been made possible owing to the growth in organised retail stores in the eyewear industry in India. Franchise brand like Lenskart has revolutionised the Indian eyewear industry.
Journey of Lenskart
Lenskart was started 10 years back in 2010. Over the last 10 years, the company has achieved full-stack business, becoming India's fastest growing eyewear business today.
Lenskart claims that in India, there are 60 crore people who need eyeglasses to just see. Of these 60, only 30 crore people wear eyeglasses while the rest don't even wear it due to lack of access. Also, there are only 30,000 optical stores to serve 1.3 billion people.
Targeting this market size, the aim of Lenskart is to help drop this number marginally in the coming years. The company believes that it can be achieved by offering high-quality eyewear to millions of Indians at affordable prices, providing free eye checkups at home and extending its services to the remote corners of India.
How Lenskart is dealing with changing consumer expectations amid COVID-19?
Lenskart is following basic hygiene principles. It sanitizes all the frames that consumers wear daily. The brand has invested heavily in other hygiene parameters like it has installed UV sanitizers at the store for taking extra precautions. Lenskart now also has cueing system where only few people are allowed to enter the store while managing social distancing norms.
The brand is making sure that all of the new-age technologies are used, which are not only impacting today but will impact in the future.
Lenskart claims that they are one of the most hygienic players in terms of retail in India today.
Amit Chaudhary, COO, Lenskart Solutions Pvt. Ltd., said, "We made sure that our factory keeps running during lockdown as this is a medical essential product. We had around 400 people at our plant who were coming even during COVID times and we made sure that they stay inside the factory for their safety while serving the consumers. There was a time of almost 1 month where no-one in India could have given you spectacle apart from us."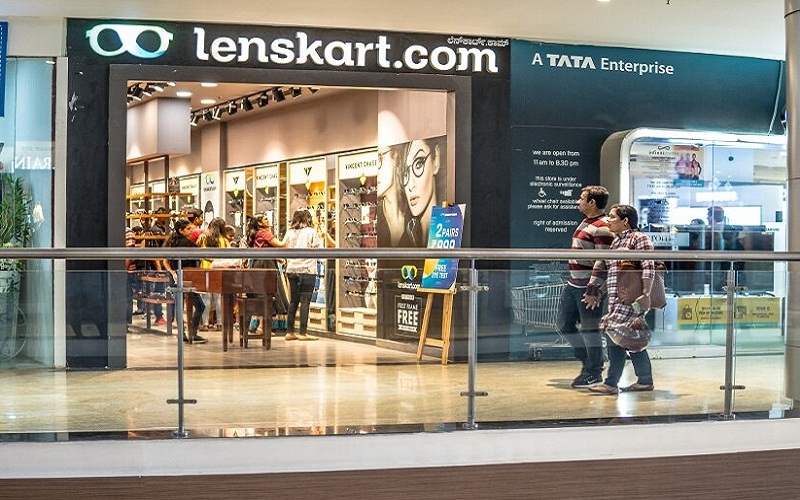 Lenskart has also introduced new products for its consumers. Its Blue Cut Glasses gained higher traction during these times.
The brand developed omnichannel technology during the lockdown, where it has integrated its online customer to offline and offline customers to online.
Attracting micro-entrepreneurs with Lenskart LITE model
The company has introduced the Lenskart LITE (FOFO) model for attracting micro-entrepreneurs. This business model requires an investment of Rs 20 lakhs as compared to Rs 35 lakhs for a regular Lenskart outlet. The monthly revenue of Rs 4-6 lakhs can be generated through a Lenskart LITE store in Tier IV and V towns.
The brand has designed the Lenskart LITE (FOFO) model for a smaller format store, with a simple yet appealing design. This model is targeted at yielding high margins and ROI as well as permitting a faster payback period.
Helping franchisees in achieving higher ROI
In a bid to enable high ROI to its franchise partners, Lenskart is ensuring 25-30% margins across its franchise models, zero stock risk and quick breakeven within two years.
Additionally, the brand offers full support to its franchisees in site selection and finalisation, store layout and design, staff hiring, and training. Lenskart also tracks franchisees' NPS on a continuous basis and training is given accordingly to help maximise revenues.
Future Plans
Lenskart aims to reach 5000 stores in 5-6 years. To achieve this, the brand targets to be present in every corner of the country.
Lenskart looks to reach out to those areas that don't have access to proper eyewear facility. Its aim is to increase the adaptability in the coming years by offering high-quality eyewear to millions of Indians at affordable prices, even in the remotest segments of India.