Generic Aadhaar Ventures Into Karnataka With Its First Exclusive Outlet
The brand is planning to open over two thousand stores this year in Karnataka.
Pharma start-up Generic Aadhaar has forayed into Karnataka with its first exclusive outlet at Chitradurga. The brand is planning to open over two thousand stores this year in Karnataka.
Generic Aadhaar is founded by one of India's youngest entrepreneurs, Arjun Deshpande, two years ago in Mumbai. Known as a Pharma Wonderkid, started at the novice age of 16, this startup is a new revolution in the Indian pharma industry.
Arjun Deshpande, Founder of Generic Aadhaar, said, "Our main objective is to make generic medicine affordable and accessible in Chitradurga and also to reach different cities in the country without compromising on the quality. It also feels immense pleasure by fulfilling the legend and our beloved mentor Ratan Tata Sir's dream of visualising a better India in the healthcare sector."
"We assure the citizens of India about the quality of medicines, which are available in our store, and follow the regulatory guidelines and requirements. We are also following the vision of our honorable Prime Minister, Narendra Modi 'VOCAL FOR LOCAL', and sourcing generic medicines, APIs required for making the drug directly from the manufacturers, who have GMP-WHO approved manufacturing facilities," he further added.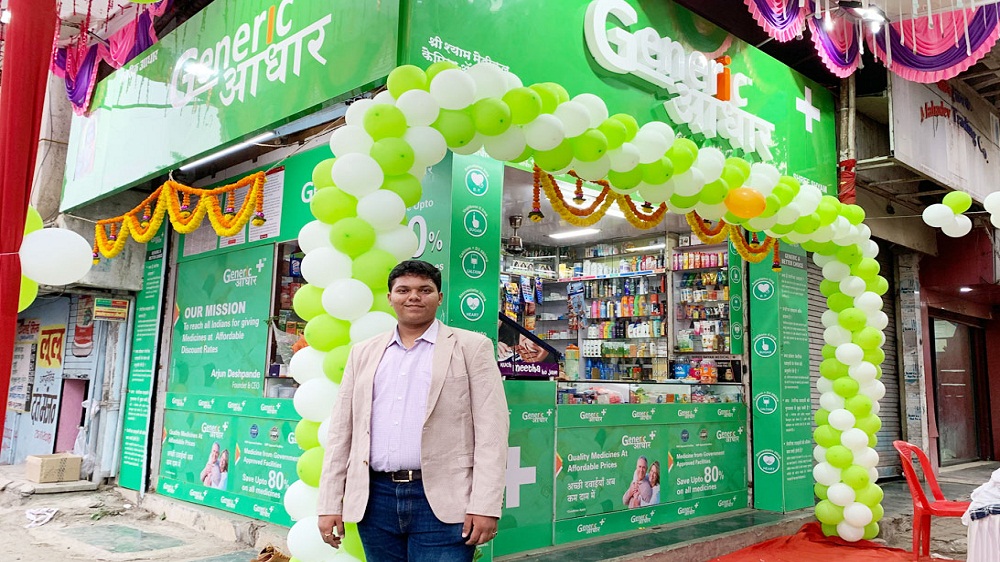 Generic Aadhaar Business Model
Offline Model: The brand's end consumer buys its medicines directly from its retail stores across India. It has max 2 stores in every Pincode.
Online Model: Generic Aadhaar has its own software installed at every outlet. A new mobile app will be launched soon and customers can download and purchase their regular medicines through this app. Promised delivery within 2 hours from its nearest outlet.
Partner with Generic Aadhaar for Master Franchise
Master Franchise is exclusively authorised to operate in a single city and develop more than 100 Generic Aadhaar stores in the city assigned. He/she gets 1 free single franchise store. Assigned Generic Aadhaar single aggregated pharma stores in your city by you will receive goods only from the Master Franchise.
All queries and new single franchise opportunities received at Generic Aadhaar HQ will be routed to Master Franchise. 10% of every transaction will be given as profits to Master Franchise unlike 3-4% currently in the market. Exclusive support of marketing, software, training, uniforms will be available to master franchise.
Only 1 Master Franchise allocated per city. Pre-requisites to owning a Master Franchise include:
- Own/rented warehouse around 400 sq ft
- Total investment required is Rs 12,00,000
- Wholesale FDA drug license
- Minimum 2 people for marketing in your area
- 1 pharmacist compulsory – B.Pharm/D.Pharm
- Computer, Wifi, Printer
Partner with Generic Aadhaar for Single Franchise
You will have a monopoly on your store in your area. You will get lifetime software, uniforms, joining kit (consists of uniform), 2000 leaflets for distribution in your local area, push/pull sticker for the door, pharmacist badges, glow sign board, sidewall marketing stickers.
You will get profits of a minimum of 40%, depending on medicines. The brand helps you get your old customers back, retain them, and grow a new customer base while helping your business grow faster than the good old days. It helps you in cross-selling - the more affordable the medicines, the more are your chances of selling other goods in your stores.
Pre-requisites to owning a Single Franchise include:
- Own/rented place around 200 sq ft
- The total investment required is Rs 4,00,000
- Retail license
- Refrigerator, furniture (counter + wooden furniture)