Asian Granito India Ltd unveils a new range in Grestek MarbleX with 14 unique designs
Marblex range is available in 110+ design, 4 large format sizes, and 5 finishes.
Synonymous to the original Italian Marble, Grestek MarbleX from Asian Granito India Ltd aims to create a style that is artistic yet natural. MarbleX is a perfect fusion of colors, creation. Marblex range is available in 110+ design, 4 large-format sizes, and 5 finishes.
The company has launched a new range in 800X1600 mm size with 14 unique designs that fit best as per the current trend of the home décor. The big size & Modern Look of AGL MarbleX make them suitable for residential, offices, hotels, malls, airports, etc. Adding a precious feel to any surface, AGL MarbleX is an ideal choice for interior and exterior spaces.
AGL MarbleX is perfect for wall & floor solution and the ideal choice for Facades as well. Anti-skid properties along with Mat Finish, Scratch resistance durable body, and low water absorption make it ideal for bathroom, kitchen.
The flexible tile body of AGL MarbleX and slim thickness of 9mm is ideal for quick home renovation as it can be placed on an existing old flat floor using tiling adhesive.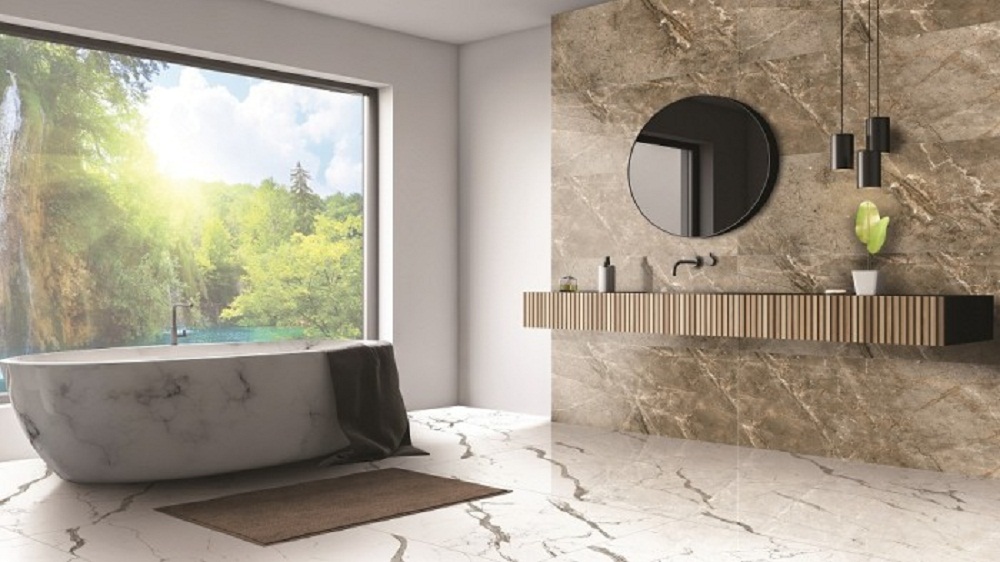 Future Plans
In the last 2-3 years, the company has taken various initiatives to increase its retail presence with a vision to become the most preferred tiles brand. The company has expanded its distribution network to 6,700+ touchpoints, including 289+ Franchise-Owned Franchise-Operated (FOFO) showrooms and 13+ Company-Owned Company-Operated (COCO) Display centres. This is a healthy addition of 2,000 touchpoints to the presence of 4,500 touchpoints in FY 2016. The company has been aggressive in strengthening its dealer-distributor network, AGL exclusive showrooms, company display centers as a part of this retail strategy which has gained further momentum post demonetization and GST.
The company had 75 exclusive showrooms in FY 16 which due to the aggressive expansion has reached 289. The number is going to see further increase as the company has set a target to reach 500 exclusive showrooms and 10,000 retail touchpoints in the next 2-3 years. The expansion in the retail segment is in line with the vision of the company to have 50% of the sales from the retail segment.
Earlier, the firm used to sell more than 70% of its total revenue to B2B, which is gradually reducing in order to improve its margin and earning. B2B is equally important for AGL but considering the increasing disposable income in India and more and more people opting for branded products, the company has now put more focus on B2C.